Effective November 1, 2016 – Changes to Collect Option When Entering Shipping Information
A $8 Handling Fee has been added to the Collect option found in Shipping & Billing, i.e. Step 2 of the checkout process. Under "Shipping Options," those who use the Collect option will be charged this nominal fee. In the past, using the Collect option cost nothing but due to costs associated with business operations such as packaging, boxing, and sealing items, we can no longer offer this option for free.
How the Collect Option Works
Before, the affected customer (individual or business) would enter a personal shipping account number—if possible. A populated list was then generated for a customer to select a desired Shipping Method. It looked like this:
However, that was then, this is now.  The process is pretty much the same, but with a few additions. Follow these steps to properly use the Collect option.
[1.] Enter Zip Code:
[2.] Select the Collect option: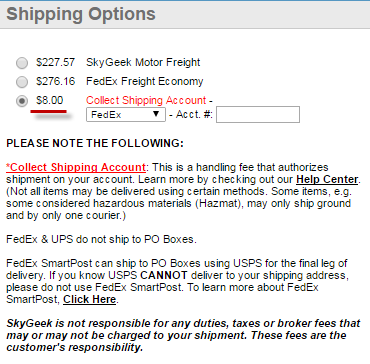 [3.] Next, select the courier you have an account for among the ones available: FedEx, UPS, DHL, or Motor (Freight):
[4.] Finally, enter your account number in the box labeled "Acct. #" and select the desired shipping method: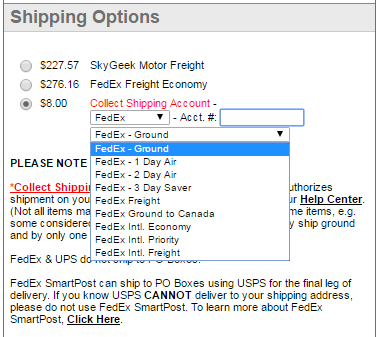 NOTE: Not all items may be delivered using certain methods under the Collect option. Some items, e.g. some considered hazardous material (Hazmat), may only ship ground and by only one courier. If there are any issues while choosing this item, email us at service@skygeek.com. We will contact you if we have any questions or problems.