Items that will be installed on a certified aircraft may require an FAA 8130-3 form. We can include this document if you are required by your aviation authority to have it.
We can provide the 8130-3 for export purposes or for domestic use on certain items. Items that we can get an 8130-3 will have it indicated as below: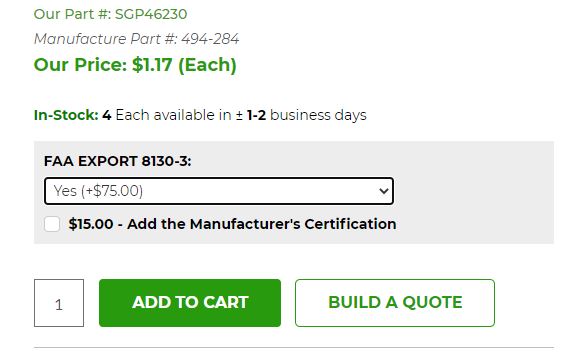 The additional fee charged for this service is a pass-through charge. We contract with an FAA DAR (Designated Airworthiness Representative) who provides this service for us. The DAR comes to our facility by appointment, when needed, to issue the 8130-3.
When an order is placed that requires the 8130-3, we contact the DAR for an appointment. Most times the paperwork is ready in 2-3 days but may be delayed longer. If for some reason there is a delay for any length of time we will let you know.
Items that are serialized will need to be charged and certified for each serial number or single item. If you order 6 serialized items, the charge will need to be charged a total of 6 times.

***Please understand that in order to issue the 8130-3, we must have the parts in our possession.***