Customers who have approved payment terms with SkyGeek.com will now be able to place orders online.
Using the "Pay on Account" option at checkout; you have the option to have the order billed to your account after checkout. There would be no changes to how you are currently billed--we've just made it easier for you to place your own orders quickly and efficiently!
Once you have logged into your SkyGeek.com account and have entered the checkout, you will see the "Pay on Account" option appear under the Payment Information Section.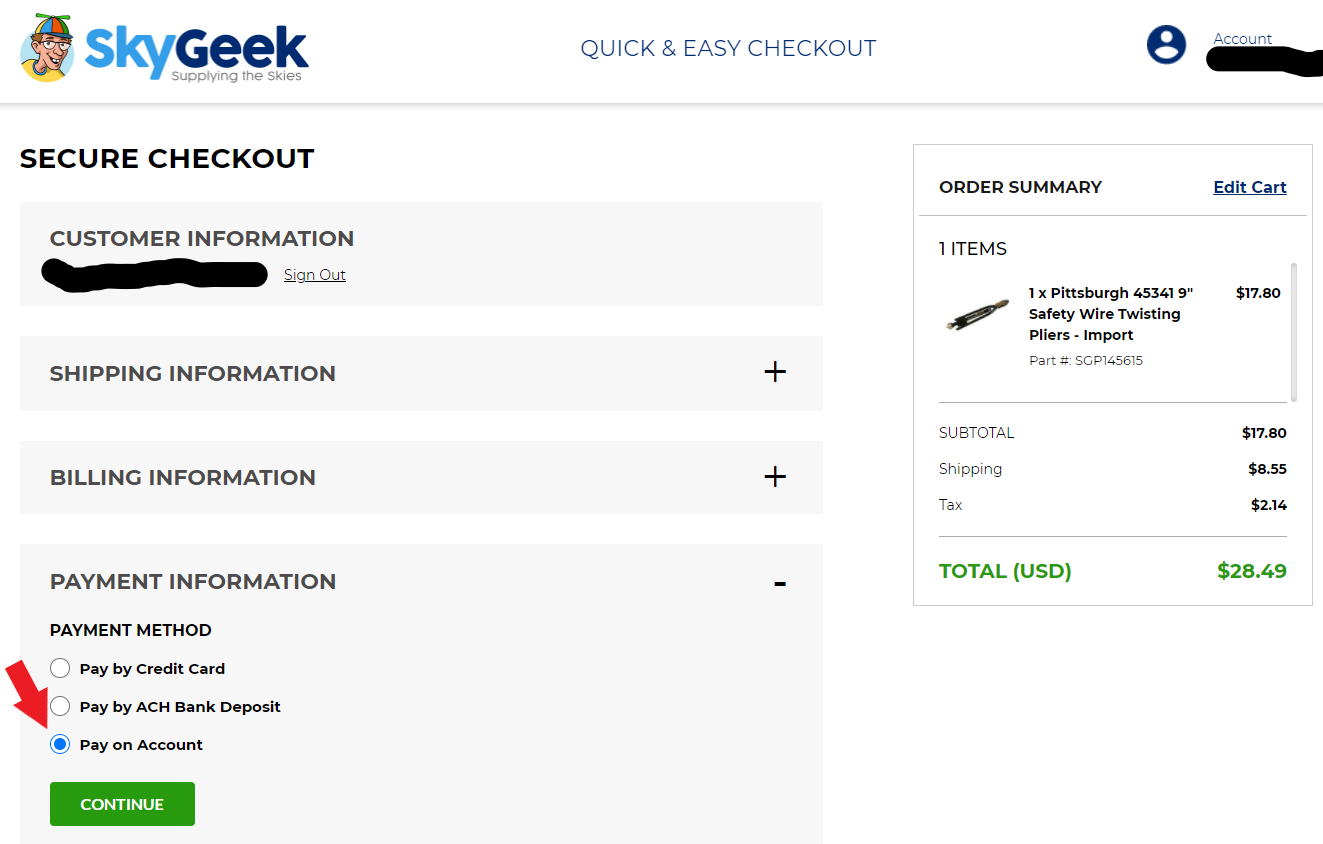 Please contact your account manager for more details and inquire about how to turn this feature on for your account login.
Please note that this feature is per email login, so if you have multiple members of a company, we would need to enable this feature for each email account login and make sure they each have accounts set-up with SkyGeek.com.
If you do not have an account on SkyGeek.com, please follow the instructions below:
Go to www.skygeek.com and create a web account under the "My Account" section, located in the upper right-hand corner.
After your account is created, send us an email to service@skygeek.com letting us know and we will have your online account updated.
We will then inform you of your account update and upon checking out you should now see a payment option listed as "Pay On Account."
Tax Exemption:
To place orders as tax-exempt, head to your account to upload your certificate to your SkyGeek account under the "Tax Exemption" tab. You will be prompted to upload the document and fill out a small form. If your exemption does not have an expiration date, pick a date random a year out. **Please note that exemptions can only be uploaded one state at a time. If you are in possession of a multi-jurisdictional exemption, you will need to upload this document for each state you are exempt in.**
Order Requirements/Quality Codes:
Requirements/Quality Codes:
Any special requirements should be established in the comments of your order when it is placed on SkyGeek.com. These requirements can include but are not limited to certification requirements, shelf life, specifications, test reports, certificate of analysis, specific manufacturers, specific lot requirements, and so on.
A purchase order number is *required* on any online order placed. If the order does not have a purchase order number, it will be held until one is received.
Payment:
All invoices will be sent from accounting@styleslogistics.com after the product has shipped. Our preferred method of payment is ACH bank transfer. Please contact Accounting with any billing or invoice-related questions.